Luxury Palm Beach Real Estate For Sale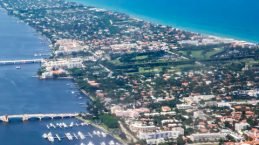 Exquisite coastal villas, lakefront estates, and even the first Winter White House are just a few of the reasons why Palm Beach Island is your next home.  Long stretches of white sandy beaches, unobstructed views, and magnificent homes makes Palm Beach Island the best place to live out your wealthiest fantasies. America's First Resort rose to prominence in the late 1800's, as movie stars and aristocrats frolicked on its sandy shores. Today, Palm Beach, FL is just as magical. The Breakers, which became famous during the gilded age, is home to Florida's oldest golf course.
Show More
Sorry, you have reached the limit of properties we can display in one search.
Please
start a new search
to see additional properties!
More about Luxury Palm Beach Real Estate For Sale
Attain your slice of Palm Beach real estate today. Worth Street provides shoppers with a fantastic array of high-end shopping, including Lily Pulitzer's original boutique. Palm Beach is the 27th wealthiest town in the United States. Palm Beach, Florida greets millions of visitors each year, and it is also an extraordinary place to call home.
Palm Beach is also home to a unique tree that came from the Amazon rainforest. The Giant Kapok Tree has a massive trunk, scenic bay views, and is a popular attraction. It's all part of the gorgeous scenery that surrounds this legendary upscale coastal community.  Florida's luxurious Gold Coast got its name for all the gold found offshore in the shipwrecks from the 1800's.   Interestingly, the town of Palm Beach got its name from another shipwreck. The Providencia was traveling from the Caribbean to Spain with a load of coconuts when it wrecked offshore. They grew into a lush palm grove on the shore, and the tallest coconut palms in the United States can still be found here.
If you are looking for a world famous golf courses, top of the class shopping and dining experiences and the best place to enjoy a wealthy lifestyle, look no further than Palm Beach Island real estate. View our collection of luxury estates in Palm Beach, Florida and find your next home today.