Luxury Gulf Stream Real Estate For Sale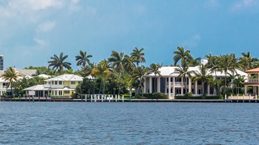 Not many cities can say that they got their start around a country club, but Gulf Stream can. Gulf Stream was planned around the Gulf Stream County Club in the 1920s as a luxurious place to live. It remains a small town with a little under 700 residents calling this exclusive area home. Considering it has ranked as the 11th highest-income place in the United States, it's not hard to believe that there are some amazing waterfront homes for sale on the Gulf Stream real estate market.
More about Luxury Gulf Stream Real Estate For Sale
As with many of the fantastic Florida coastline, famous architect Addison Mizner designed the area with the course itself being planned by Donald Ross. The club opened it's doors to players in 1925 during the booming period of Florida. It's still one of the most prestigious golf clubs in the country to this day. The city was meant to be called Phipps Beach, but the name of Gulf Stream was just too ingrained in the populace, so it kept Gulf Stream as its name.   To keep with the architectural style and stop the trend towards homes like "McMansions," strict building codes were put into place. To some, these may seem like it's narrowing potential Gulf Stream real estate options, but it's genuinely keeping this area more in sync with its past. The Gulf Stream, real estate market, has many gems that reflect this past.
Did you know that Gulf Stream has the only Australian Pine Canopy left along the coast? It's just one of the crown jewels of this amazing scenic area. Besides the golf course, one of the biggest draws to this area is the beaches. Rich, blue water and white sandy beaches may be familiar to Florida, but there's nothing ordinary about the beaches along Gulf Stream. Are you ready to move up and move into a beautiful home from the Gulf Stream real estate market? Let us help you find that perfect home for you and your family.