Luxury Highland Beach Real Estate For Sale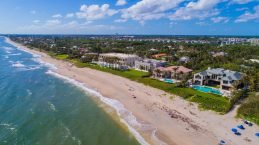 Highland Beach Florida is the place to be. One thing that separates Highland Beach real estate from other cities is the size. Highland Beach is only a little over a square mile in size but is mostly residential. In fact, there are only two businesses that are in the same building. That means there is plenty of real estate for sale waiting for the right person to snatch it up. If you need help finding the perfect waterfront home for sale in Highland Beach FL call (561) 247-1685. Accredited Buyers Representative with over 22 yrs of experience in South Florida.
Start of list of properties

All rights reserved. Information deemed reliable but not guaranteed. All listings featuring the RPBGFL MLS logo are provided by the Realtors of the Palm Beaches and Greater Fort Lauderdale, Inc. and Beaches MLS, Inc. This information is not verified for authenticity or accuracy and is not guaranteed. Copyright 2023 Realtors of the Palm Beaches and Greater Fort Lauderdale, Inc. and Beaches MLS, Inc.
Listing Data last updated: 4th October, 2023 09:00 MST
More about Luxury Highland Beach Real Estate For Sale
Although it was incorporated in 1949, it has all of the charms of many of the older established cities. Highland Beach gets its name from it being elevated higher than some of the other surrounding areas. The three miles of beach that Highland Beach boasts is a lovely place to visit. Many visitors and residents are drawn to the beach to enjoy the water, look for seashells, and relax. It's also a critical nursing ground for sea turtles that are endangered. Between March and October, thousands of eggs are laid along the beach. A few weeks later depending on the species, the hatchlings make a break for it during the night after hatching. Highland Beach takes great pride in their care of these animals, and work with the community to stop light pollution that causes the hatchlings to move towards land rather than the ocean.
When it comes to demographics, Highland Beach real estate is very popular with seniors and retirees. The small town feel persuades people to stay in this area.
The population year-round is a little over 4,000, but that blooms to about 8,500 when the snowbirds come back into town to escape the winter. No matter if you're looking for a place to escape winter back home with a summer house or move to an area with like-minded individuals, Highland Beach real estate has something to offer. Ready to explore Highland Beach real estate and start your golden years or raise your growing family? We have many properties for sale in the Highland Beach that are just waiting for the right buyer.
If you are looking for waterfront homes or Highland Beach Homes for Sale contact us today to get extraordinary service finding your home in Highland Beach, Florida.