Luxury Hillsboro Beach Real Estate For Sale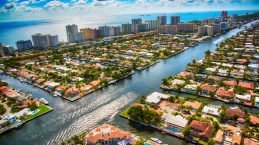 The town of Hillsboro Beach is a 3.2-mile strip of land whose main road is Florida State Road A1A. It hosts a small population of fewer than 2000 people.  Hillsboro Beach was named after the Earl of Hillsborough and has one the nations few lighthouses that are still in operation. As a barrier island, the upscale homes in Hillsboro Beach sit either along the intracoastal or along the Atlantic Ocean, and some Hillsboro Beach homes have a magnificent view of both bodies of water. You can get the best of both worlds when you purchase a waterfront property in Hillsboro Beach.
More about Luxury Hillsboro Beach Real Estate For Sale
The barrier island's small population allows for a quiet living experience, but surrounding cities around the island include Pompano Beach and Fort Lauderdale to the south and Deerfield Beach and Boca Raton to the north.
There is also an endless amount of opportunity to enjoy the nightlife, country clubs, nature preserves, and a variety of other activities without sacrificing peace and quiet at home.
Indeed, you will find peace and serenity when you buy real estate in Hillsboro Beach.  Let us help you find the perfect luxury waterfront home for you and your family.